Interview with Christine Harrelson – PranaBarre Instructor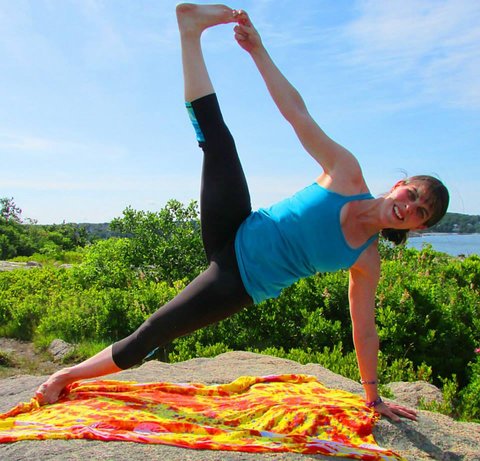 Christine teaches our PranaBarre classes every Tuesday at 12:30pm and Thursday at 4:30pm. She offers a challenging blend of ballet barre exercises infused with yoga. Come to her class if you want to gain strength, flexibility, and have some fun!
When did you start practicing yoga?
I started practicing yoga in 2004 at a brand new studio in Fort Walton Beach, Florida. I was drawn to yoga because I thought it could help me deal with the emotional pain of a bad break-up. It did that and SO much more! I was hooked, but not consistent for more than a few months at a time. In June of 2011 I came back full force and have been a daily practitioner since.

What do you love about teaching barre?
I love teaching yoga because I strive to give others the feeling I get after every yoga class. I have seen yoga heal bodies, hearts, and minds and I want to bring that to people in my own way. My version of Barre is always infused with a little yoga, and I enjoy using my gymnastics and ballet background to deliver an awesome workout.

What are your other interests/ hobbies?
Music is a big part of my life. I sing and compose music on my computer for gymnastics routines on floor exercise, but have also sold music for other purposes as well. Another passion I have is travel; I hope to see the world teaching yoga someday VERY soon.

What is your favorite color/food/place/book
Favorite Color? Deep Turquoise
Favorite Food? Ice Cream
Favorite Book? I cannot pick one. One of my most favorite authors, however, is Tom Robbins.
What would we find on your iPod?
Right now, 5,249 songs that range from a little bit of this to a little bit of that. People that ride in my car with me are often baffled when they hear Prince followed by Talking Heads, maybe some thrash metal, Yma Sumac, a little bit of Johnny Cash, then Celtic folk music.

Do you have a favorite quotation to share?

"Breathe properly. Stay curious. And eat your beets."
― Tom Robbins, Jitterbug Perfume

What advice would you give to someone new to yoga/fitness/healthy living?
"Change takes time. Think of how long you've been doing what you're trying to undo. Then, prepare to commit yourself to the same amount of time undoing it. Take it slow and enjoy the ride."
Take class with Christine every Tuesday @ 12:30 and Thursday @ 4:30