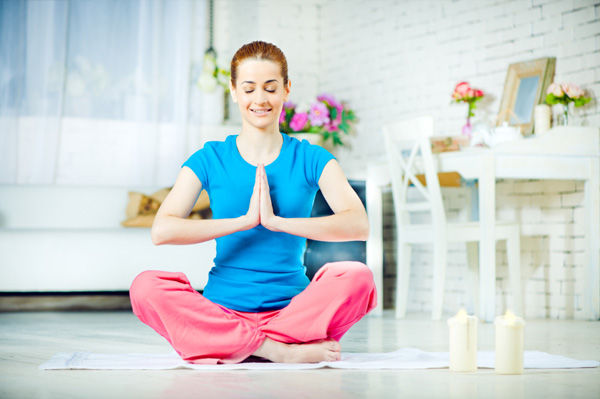 Yoga is a practice that has numerous benefits to one's health and overall wellbeing. It is not the easiest practice to keep, though. It takes a lot of discipline if you want to incorporate it into your lifestyle. In my case, I have used a hundreds of different excuses not to go to the studio, like not having yoga mat towels for hot yoga, or having too many house chores to do, and so on. But since I really want to practice yoga on a regular basis, I decided that doing it at home would be better for me. Let me share some tips with you on how to maintain a home yoga practice.
1. Look for a quiet spot in your home.
It is important that you choose a place where you will not be frequently interrupted. The living room is often not the best choice for this, as it is where people come in first in your home.
2. Turn all your gadgets off.
When it comes to getting rid of distractions, the first thing you should do is turn off or put in silent mode your mobile phone and other devices. You will be doing yoga for a couple of minutes or an hour only, so this shouldn't hurt.
3. Choose the right music.
If you're more comfortable having some background music while you perform yoga, then pick a playlist that has enough songs to last until you finish yoga. This will prevent you from having to switch from one playlist to another.
4. Learn the basics of the type of yoga you do.
Since you will not have an instructor to assist you as you make poses, it is vital that you know the basics of your yoga practice to keep yourself safe. You shouldn't force yourself to perform more complicated poses if you are not ready to.
5. Keep it short.
As mentioned earlier, an hour of yoga at home is good enough. In fact, beginners are advised to do 20 minute sessions only, if they are to do it on their own. You can gradually increase the duration of your session once you are comfortable with not having a teacher.
6. Trust yourself and be happy with what you can do.
There is no way you can make everything perfect, especially if you have just started doing yoga on your own. Be happy with what you can do and don't put too much pressure on yourself.
Before you begin any session at home, make sure you also have the tools you need, such as a reliable yoga mat, a yoga mat towel non skid, and a bottle of water. When choosing which yoga mat or towel to buy, NOW Athletics should be your first option. NOW Athletics yoga towels are nonslip, ultra absorbent and come with a 5 year money back guarantee!